slope stability radar play vital role in the risk management of open cast mines. Generally, Issue of slope failure occurs at open cast mines due to undisciplined mining, impacts of weather conditions. Slope stability radar provide slope stability warning impending failure and also it has used for setting out threshold value. This threshold value obtained from parameter value, some previous scan data of radar at open cast mines and applied statistical analysis. After that it has carried out accurate result of slope stability monitoring area and remotely scanning region slopes to continuously measure any surface movements.
slope stability radar in mine slope stability monitoring at open cast mines. It is development on the radar technology, is now being widely used in several countries to provide real time monitoring and advance warning signals before any slope or dump failure in open cast mines.
Reutech is committed to providing innovative and pioneering solutions in the mining industry. MSR radar has been lunched by Reutech company. The MSR modular Series generates its 3- Dimensional own synthetic map from highly accurate radar measurements, delivering millions of data points in real time. It's able to track sub millimeter slope movements at distances of up to 4000 meters. The system is fully autonomous and can be remotely accessed from anywhere in the world. With improved atmospheric algorithms, the MSR requires no user- defined known stable region, providing geotechnical data when needed most.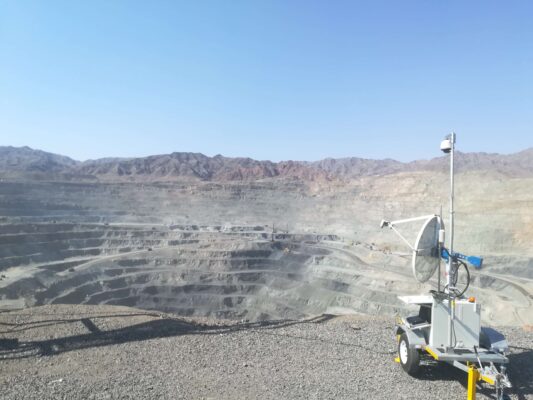 MSR MODULAR SERIES
REAL TIME MONITORING
With a maximum scan speed of 40° per second, the MSR Modular Series covers broad areas in only a few minutes. The advanced parallel computing architecture processes data while actively scanning. Lossless data compression algorithms combined with high speed wireless communication hardware provides instant remote access. This means that slope movement information and alarms are immediately available. Anywhere. In real time.
TRUE 3D DATA
Unique to Real Aperture Radar technology, the MSR Modular Series produces its own a high resolution true 3-Dimensional point cloud. Each point is individually resolved in range, azimuth and elevation to the highest degree of accuracy. The result is smaller failure mechanism tracking, without relying on Digital Terrain Models or camera images.
EXPORTING MSR DATA
The MSR generates millions of 3-Dimensional surveyed data points. Each point is individually georeferenced and contains spatial and movement data which can be exported as a Digital Terrain Model or as a Comma Separated Value file. That makes MSR data compatible with any third party mine planning and design software packages.
Integration
The MSR seamlessly interfaces with data from a variety of Automatic Total Station systems and extensometers. Real time radar data is displayed along with color coded vectors that are scaled accordingly providing an integrated monitoring solution.
Environmental
Designed and built by a company with its roots in the military defense industry, the MSR Series is engineered to reliably operate in the harshest of field conditions. The system can operate in high wind conditions, heavy rainfall events as well as in temperature extremes. With next generation atmospheric correction algorithms the need for Known Stable regions are eliminated. This means reliable radar data. Available when it's needed most.
Georayan is a pioneer company for mining monitoring in Iran also we are the representative of Reutech company.